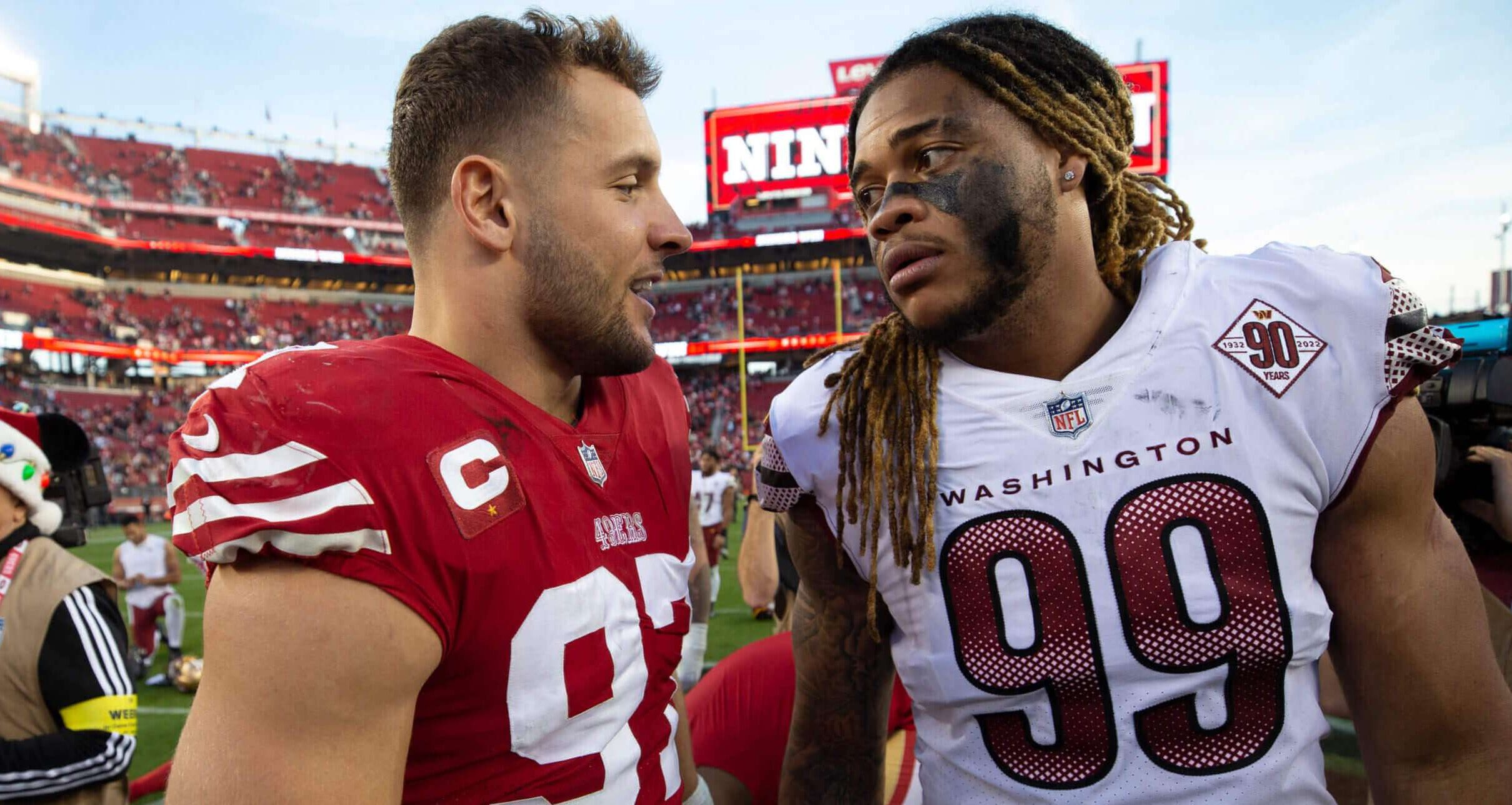 Before the trade deadline passed yesterday, Washington (3-5 straight up, 3-4-1 against the spread) dealt a pair of starters on their defensive line. The club shipped DE Montez Sweat to Chicago for a 2024 second-round pick, and it also moved DE Chase Young to the 49ers for a 2024 third-round selection.
Young was the Commanders' No. 2 overall pick in the first round of the 2020 NFL Draft. As a rookie, the Ohio St. product had his best year, producing 44 tackles, 12 QB hits, 10 tackles for loss, 7.5 sacks, four forced fumbles, three fumble recoveries and one scoop-and-score fumble recovery for a touchdown. Young was named a Pro-Bowler and the NFL's Defensive Rookie of the Year.
However, Young wasn't as productive in nine games during the 2021 campaign before sustaining serious injuries to his ACL and his patellar tendon. Before the injury, he had recorded 26 tackles, four QB hits, three TFL's, two forced fumbles and 1.5 sacks.
The injury forced Young to miss all but the last three games of the 2022 season. In those three contests, he contributed only five tackles and one QB hit.
After missing Washington's season opener with a neck injury, Young has been productive in seven games this year. He's produced 15 tackles, nine QB hits, six TFL's and five sacks. In addition, Young is ranked eighth in the NFL in pressures with 25.
San Francisco (5-3 SU, 4-4 ATS) won its first five games, but the 49ers go into their open date this weekend on a three-game losing slide both SU and ATS. The offense has floundered in the past three weeks mainly due to injuries that have caused WR Deebo Samuel, OT Trent Williams, RB Christian McCaffrey and QB Brock Purdy to miss varying amounts of playing time due to injuries.
But there's no valid excuse for the lack of production from what was thought to be one of the NFL's nastiest defenses. The 49ers are currently ranked No. 19 in the NFL in pass defense, and a major part of that has been a lack of pass rush outside of Nick Bosa.
San Francisco's defensive line now has five former first-round picks on it, including Young, Bosa, Clelin Ferrell and DTs Javon Kinlaw and Arik Armstead. The 49ers will play at Jacksonville in Week 10.
It wasn't a surprise that the Commanders dealt Sweat, but the buyer was shocking. The Bears are limping toward another cold December in The Windy City, where they've compiled a 2-6 SU record and a 2-5-1 ATS mark.
"Montez is a huge addition to our team," Bears general manager Ryan Poles said, according to the team's website. "He is not only a great player but a great person. We expect him to help elevate our defense."
The 27-year-old Sweat is in the last year of his contract. He was Washington's first-round pick in the 2019 NFL Draft with the No. 26 overall selection.
Sweat is one of just seven players with at least five sacks in each of the last five seasons, joining a group that includes Maxx Crosby, Khalil Mack, Brian Burns, Myles Garrett, Chris Jones and T.J. Watt.
In eight games this year, the Mississippi St. product has recorded 32 tackles, 11 QB hits, 10 TFL's, 6.5 sacks and two forced fumbles. In 67 career games in five seasons with the Commanders, Sweat produced 197 tackles, 85 QB hits, 47 TFL's, 35.5 sacks, 11 passes broken up, nine forced fumbles and one interception that he returned for a touchdown.
Whether the Bears can re-sign Sweat to a long-term deal remains to be seen. For now, though, he immediately helps a defense that has an NFL-low 10 sacks. The Bears are also ranked No. 30 in pressures with only 46.