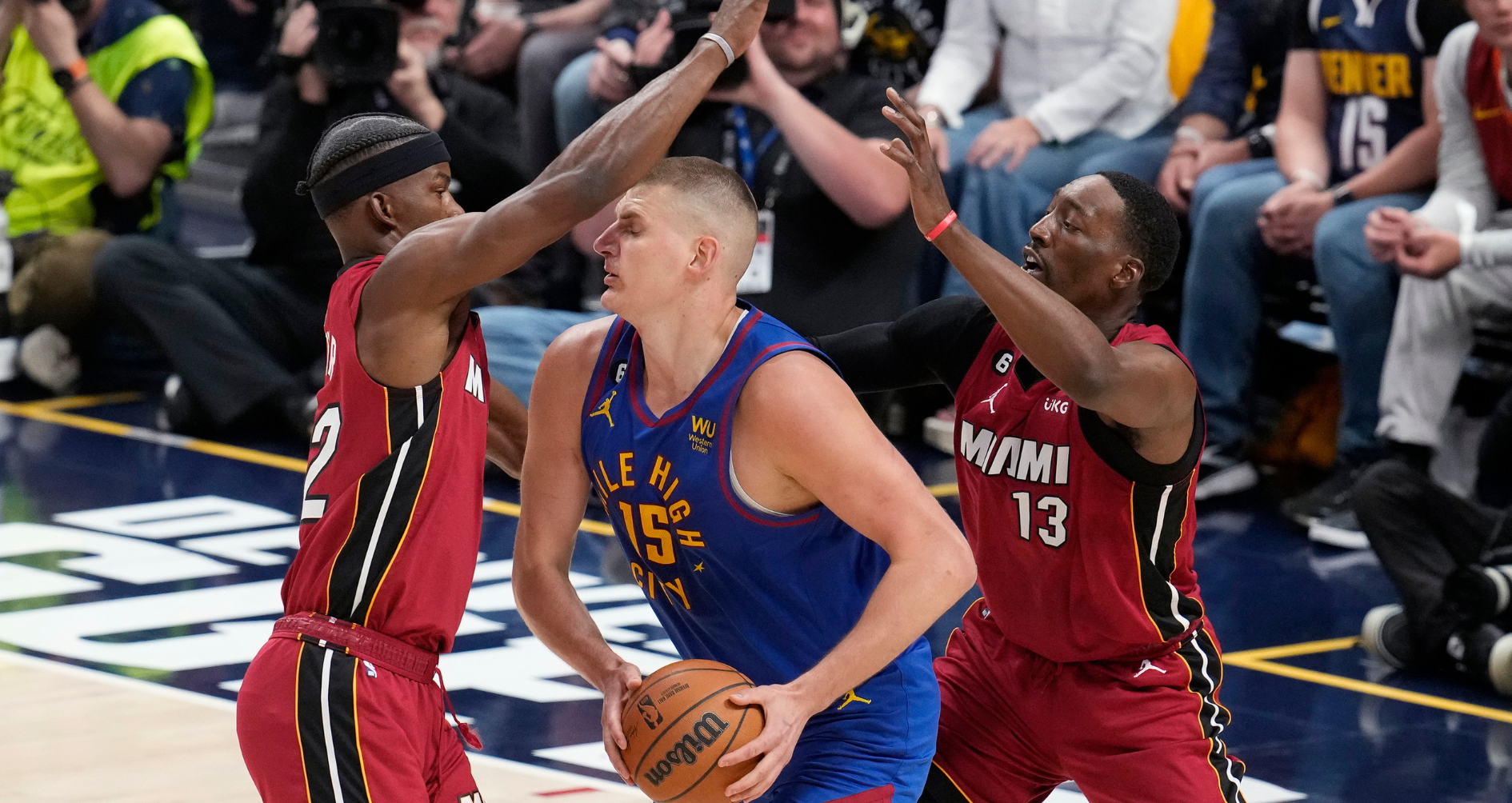 Denver (66-32 straight up, 55-43 against the spread) took Game 1 of the NBA Finals on Thursday night with a 104-93 win over Miami as a nine-point home favorite. The 197 combined points dropped 'under' the 218.5-point total to end a 5-0 run for the 'over' in head-to-head games between these clubs.
As of early Friday afternoon, most books had the Nuggets installed as 8.5-point home 'chalk' for Sunday's Game 2 at Ball Arena in the Mile High City. The total was 214 or 214.5 points, while the Heat's money-line odds were in the +280 to +320 (South Point) range.
By early Saturday afternoon, the number of the side remained at 8.5, but the total was moved to 215.5 or 216. 
For first-half wagers, most spots had Denver favored by five with a total of 110.5 points. Miami (57-46 SU, 44-55-2 against the spread) had +220 odds to go into halftime with the lead.
For first-quarter bets, the Nuggets were three-point favorites with a total of 55.5. The Heat were +175 on the money line.
Nikola Jokic posted another triple-double in the series opener, extending his NBA single-season record with his ninth of the postseason. He produced 27 points, 14 assists (compared to only two turnovers), 10 rebounds, one steal and one blocked shot. He made 8-of-12 field-goal attempts and 10-of-12 free throws.
However, bettors backing the 'over' for Jokic's points scored prop (27.5 or 28.5) took a loss, and his rebounds prop (13.5) also went 'under.' Gamblers on his assist prop to go 'over' (9.5 or 10.5 at various prices) were easy winners in the third quarter.
Jamal Murray went for 26 points, six rebounds, one steal and 10 assists compared to three turnovers. He buried 11-of-22 FGAs. Aaron Gordon finished with 16 points and six rebounds, getting most of his seven buckets on 10 FGAs in the first half. Michael Porter Jr. didn't have a great shooting night, going 5-of-16 on FGAs, but he still managed 14 points, 13 rebounds and a pair of blocked shots.
Bruce Brown contributed 10 points, five boards, two assists and one steal from off the bench.
Denver's biggest lead came late in the third quarter when it went ahead 84-60. At that point, even Miami backers in the second half, who were sitting on +16.5 tickets (the Heat trailed by 17 at halftime and were favored by 0.5 points in the 2H), were in trouble.
However, Miami went on a 14-0 run thanks to three treys from Kyle Lowry to cut the deficit to 10 points with 9:29 left. Denver promptly responded with a 6-0 run. From there, though, the spread cover for gamblers on the Nuggets wasn't a given by any means. 
A bucket by Haywood Highsmith got the Heat to within 10 (92-82) again with 4:16 remaining, but Jokic answered with back-to-back eight-foot jumpers. Highsmith countered with a dunk and then hit a 3-ball from the corner to make it 96-87 with 2:34 left. 
A jumper by Kentavious Caldwell-Pope moved the lead to 11, and then Goron and Jokic combined to make four straight free throws. But Highsmith teased Miami backers again by draining another trey to make it 102-90 with 1:24 remaining. 
Jokic then hit a 12-footer, but Gabe Vincent buried a 3-pointer to make it 104-93 with 55.1 ticks remaining. When Porter missed on Denver's next possession, Miami's little-used reserve Nikola Jovic snagged the rebound with 28.1 seconds left. 
Sometimes teams – even the ones trailing – will opt to dribble out the clock in this scenario. But hey, it's the NBA Finals, so Jovic wanted to get his name in the box score, and not just for one rebound. 
The 6-foot-10 rookie dribbles up the court. Instead of passing to the wing to a red-hot Highsmith or Duncan Robinson, one of the NBA's best 3-point shooters, Jovic drives into the paint. He goes up and gets his weak-ass shot attempt blocked and it goes off his leg and out of bounds. 
Miami backers (hand raised here) were left disappointed, while Denver supporters deservedly got their spread cover. 
In the Boston series, Adebayo had several poor performance. He's off to an excellent start in this series, though. The six-year veteran finished with 26 points, 13 rebounds and five assists compared to only one turnover, cashing 'over' tickets for all of his prop bets. 
Vincent had 19 points, two rebounds, one blocked shot and five assists with just one turnover. Jimmy Butler contributed 13 points, seven assists (to only one turnover), seven boards, one steal and one blocked shot, while Highsmith went for 18 points on 7-of-10 FGAs. Lowry finished with 11 points, five rebounds, five assists and one steal. 
Spoelstra got outstanding performances from Adebayo, Vincent and Highsmith. Butler, who went 6-of-14 from the field, was solid but not spectacular, while Lowry provided a nice spark from off the bench.
So, what was missing? Well, Caleb Martin and Max Strus had abysmal performances, and Robinson wasn't much better. The trio combined to go an atrocious 2-of-23 on FGAs. 
Martin, who averaged 19.3 points per game in the East finals, including a 25-point effort in Game 2 and a 26-point outburst in Game 7, scored just three points. Strus took a bagel, missing all 10 of his FGAs, while Robinson went 1-of-6 overall and 1-for-5 from downtown. 
Denver is now 10-1 both SU and ATS in the last 11 head-to-head meetings between these squads. The 'under' has cashed in five consecutive games for Miami and is 4-1 for the Nuggets in their last five home contests. 
Miami has been an underdog of 7.5 points or more 11 times this year, going 8-3 ATS. The Heat are 13-4 ATS with 11 outright victories in their last 17 games as underdogs. 
ABC will provide the Game 2 broadcast at 8:30 p.m. Eastern on Sunday night.